Patrice Michelle interviews cover model/actor Chris Winters
I first met Chris Winters at last year's 2007 Romantic Times conference. Talented, down-to-earth, intelligent, funny (not afraid to laugh at himself! – hehe), a Scorpio (extra points! Scorpios rock! *g*) and of course, I can't forget the whole reason you're reading this interview – he's verra nice on the eyes!
If you read my write up about RT 2007 last year, you'll remember that I predicted Chris would win Mr. Romance 2008. Yep, you heard it here, folks…the campaign started last year. =D
I was so excited when I found out that Chris was definitely going to be one of the contestants in the 2008 Mr. Romance contest at RT this year. Before RT rolled around, I sat down with Chris to ask him to share a bit about himself and give you a glimpse into the super-nice guy I met last year.
Patrice: Chris, thanks so much for agreeing to this interview. I appreciate you taking the time to answer my questions.
Chris: Why, thank you, Patrice, for inviting me!
Patrice: While I was visiting your website and MySpace page, I saw that you've had a fantastic year since I've seen you last: several movies, a book trailer, print work and more. Congratulations! Why don't you give everyone some highlights on your most recent projects.
Chris: Wow! Well, a few things are actively jumping around. I am slated for a role of Kane, in Mountain Mafia, which is a really cool upcoming action movie. Its directed by Cherokee Hall. I also have done several small films, been on another national campaign of Dollar Tree stores, a few books, and of course the Discovery Channel is still re-running an episode I was on (A Haunting: Ghost Soldier). In addition to that, I've been doing some other small films and a few fashion shows.
I've done Rachelle Chase's 'Finding Derek' contest and came in 3rd place. I also did various interviews and chat sessions with a few authors in the romance community. I am in the process of signing with a couple more agencies. Currently, I am a competitor of the infamous Mr. Romance, at RT. I'm really excited for that. I am hoping to win. I want to represent a new face in the romance community.
Patrice: Out of everything you've listed, which project are you the proudest of and why?
Chris: Hmmm, that -is- a hard one. I would have to say the Mr. Romance and television work. Both of those take huge goals to accomplish and the results are very productive!
Patrice: You've had so many great successes already in the model/acting field, what do you think has garnered you all these roles? (er, other than that great smile!
)
Chris: I would have to say experience, confidence, and fans! Its the people who make you. That's what I most appreciate. People push me to do more, to do better, and to still– maintain that 'cW' attitude. Experience. In acting you have to research your character, get your lines right, and not 'act'. You have to 'be' that character, be that someone else. It's not all just being beautiful or something like that, ya know? Some actors, try to figure out 'how' to play an emotion or part, but they should find out 'why' they are playing that part, doing that emotion, or perhaps, being that person they are supposed to be. It's not easy. I mean… like on my first indie film, with first time female director, Helen Cunnigham's "Swallowed", I had to cry, right there on the spot. I asked myself: 'why' am I upset? It's because I'm trapped and worried in my own problems and I'll probably lose my son forever.
As far as confidence… (thinking) Hmmm… I remember when I first started. Acting. Getting behind the camera and acting is quite different from modeling. Modeling; you take good pictures and it can be fixed later. With acting, you have to have confidence in things you are not comfortable with, display emotion and more importantly, people can see it.
Patrice: When I met you last year, one of the things I liked about you was the fact that you weren't just a model/actor, that there were a lot more layers to Chris Winters. What made a computer applications developer—one who wrote and published a book on complicated programming languages—decide to be a model/actor?
(Patrice's side note: When I was in high school, I wrote a computer program in BASIC that balanced a checkbook. Today, I know just enough HTML to be dangerous, so I can totally respect someone who does complex computer programming!)
Chris: (laughs) HA HA HA! Computer applications developer!? Ha! Yeah, it's all out now, thank you! Yes, I was an applications developer for several companies. G.E. and Symantec to name a few. A big secret is; I miss Symantec, dearly. They treated me very well. It's a fact. I'm a nerd. I even do my own website, although I hate doing websites. I also wrote a program called TASMan that has a feature to power down your computer and wake it up, at a certain time. I was going to sell it, because it is a nifty utility, but that means I have to do the up keeping.
Layers. Yes, there are many, many layers to me. I stated once before: You see my work, you get just Chris Winters, but if you read about me, get to know me, and dig a little deeper then you will get the true Chris Winters. There's so much more than just a smile. Now as far as what got me into modeling and acting? I think its because acting for me is an outlet. I like to play. Modeling, I like art, and modeling is art. I want to be involved in both.
Patrice: Out of everything you do, what do you enjoy the most? Modeling? Acting? Programming? (hehe, couldn't resist!).
Chris: I like programming, but only if I find a particular nose-itching project. I get these wild hairs in my nose, and I code at it, getting it done. Modeling, I love, because you can have a photo someone has done, and appreciate the work for years. One of my personal favorites include 'Depressed In Desert'. It's just so expressive. Another favorite is the 'Bed fantasy' by A&R Photography. It's quite sexual and gets the mind working. Acting is something I really enjoy because I can be someone, or something else. It also shows various sides to me as well. Many people, though, surprisingly, write in and say they want to 'see' me in action. moving around, smiling, laughing, being animated and stuff. People like that. I do, too.
Patrice: What made you decide be a contestant in Mr. Romance 2008?
Chris: To make a short story, —longer! (laughs). Nah, just joking! Um… I would have to say, many people from last year asked me to do it. I was quite flattered– I GOT the love from many people. That to me, just pressed me further to do it again this year. The people pushed, and they now get Chris Winters. The same, goofy-sexy-great-smile-kinda guy that likes to give hugs… If anyone cannot remember me from last year, the hugging was a sure fire way to do so!
Patrice: If you win Mr. Romance 2008, how do you think/hope it will change your career?
Chris: This means a lot of people will want to see me on book covers -this time! (laughs) It also means– this time, I can get interviews from GQ, unlike last year when I actually decided to help with crew to fix the show… I missed out on the interviews. (laughs). With kidding aside, I really hope it makes me go further. I feel that it will. I just have… this wonderful feeling about it, ya know? In addition to this, I also plan to use this, promote RT, and Mr. Romance when I progress in my career. It would be very, very nice to give back to the authors, planners, and everyone involved. To me, giving back like that is the reward. In the years after, I'm pretty sure I would still attend, because it's not just an event, it's being part of a huge family. I've met so many people!
FUN QUESTIONS
Patrice: Have your ever been recognized by a stranger who has seen your work?
Chris: Yes, and you know, that is such a wonderful feeling. I remember one time a lady at a restaurant was coming out the door with her child. She stopped me and said she knew me from a fashion show from some time back. I smiled and gave her a hug and told her thank you for recognizing me. Sometimes, I get people saying they stumbled across my website from seeing me somewhere. I get a lot of responses from the Discovery Channel running the episodes I'm on. I also enjoy it when someone writes and says that they actually 'googled' my name on the internet to find me and tell me that they are my new fan. It touches ya.
Patrice: What's the most unusual response you've received from someone when they found out you are a model/actor?
Chris: Oh…. wow…. (thinking) ah! yes! They said "You model, and you drive a piece of crap car?" or "How could you be a model, you don't even look like one!". I smiled and said: "Yeah, I guess you are right, but I make a great clown!".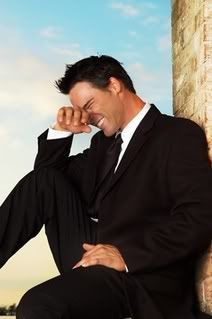 Patrice: What's the best part of being a model/actor? What's the worst?
Chris: The best part is getting FREE ice cream and peanut butter! I have SO many offers! No BS! Hmmm, I would have to say the best part; is being a child again. Now, as far as the worst part? Getting the typecasting or perhaps someone that wants to start something. I've had a couple of people say negative things, but that's just part of the fun.
Patrice: What advice would you give to a person who thought he might want to try to get into modeling or acting?
Chris: In modeling OR acting: Be humble! If you think red carpet, fast rides, and a fat house, then you should not look at acting as your career. In modeling, its hard work, and when you do great work, then the next time you come out with -new- work, it better be even better than before. The reason why? People expect that. Be nice. If you are a stucky-nose, jack-ass-ity kinda person, then people see right through you. Those days are over of the diva model, or actor. People want 'real' people, with 'real' personalities. Not fake, wanna-be divas.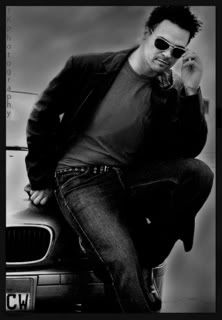 As far as getting into the field, it IS hard work. Get to know people. Network. Get a couple of good pictures taken, and work with photographers. Take acting sessions. Study the craft of acting. Learn poses. Do lots of free stuff. Learn to take rejection. Have patience when looking for agents and get out there and sell yourself. It's all about marketing and the way you handle your path, without giving up.
Patrice: Chris, what wonderful advice! Thanks so much for sharing a bit of yourself with us today and for all the wonderful photos as well. I'll see you in Pittsburgh in April, and I wish you the best of luck in the 2008 Mr. Romance contest!
(Patrice's side note: If Chris wins the 2008 Mr. Romance contest, does that make me psychic? *g*)
*** Okay, everyone, I hope you enjoyed the interview! Chris is going to give away a signed photograph to a commenter on this interview, so post your thoughts on the interview, well wishes for the Mr. Romance 2008 contest, or whatever you wish, but post to be entered. I'll pick the lucky winner on Monday, April 7th! ***
Don't forget Chris will be at the 2008 Romantic Times conference for you to meet in person and take pictures with, so bring your camera!
**UPDATE: THE WINNER IS ANNOUNCED HERE! **